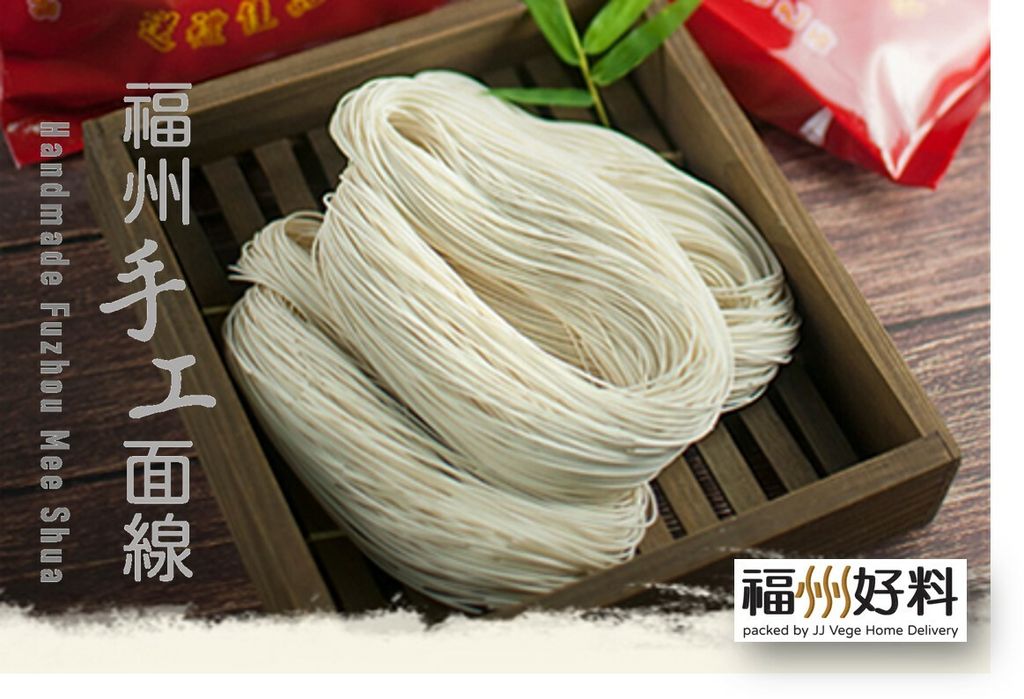 福州手工面线 Handmade Fuzhou Mee Shua
成份:面粉、盐、植物油及茨粉。
Ingredients : Wheat Flour, Salt, Vegetable Oil & Tapioca Flour
煮法:将面线放入沸水中煮 1-2 分钟,然后捞起再冰镇,放进已调好汤料里,即可食用。
Cooking Method : Put the Mee Shua in boiling water for 1 to 2 minutes. Darin off water and rinse with cold water and it is ready to be served with soup.
福州手工面线是福州地区的特色面,每年的大年初一,人们通常都会吃一碗热腾腾的红酒面线,寓意健康长寿。这种面线制作工艺精良,在长达9个小时的和面、锤面、发面、分条、搓面、串面、晒面、拉面等工序后,面条厚实有弹性。此面在锅中煮沸,好消化,易吸收。值得一提的是,面微粗不易断,煮时不糊,不添加任何防腐剂,健康,美味。福州手工面线,吃的是一份儿时回忆,吃的是一份贴心。
The hand-made FuZhou Mee Sua is a distinct noodles in FuZhou area. Each year, on the 1st day of Chinese Lunar New Year, the people would eat a bowl of steaming hot Red Wine Mee Sua which signifies health & longevity. The method of making this type of Mee Sua is crafted intricately. After 9-hours of making the noodles by hammering, rising the dough, slitting, twisting, skewering, drying & finally pulling the noodles, the thickness of such Mee Sua has elasticity. Once the noodles is boiled in a wok, it is easily digestible & absorbable. A word worth mentioning is that irrespective of whether the noodles is thick or fine, it is not easily broken. It is not muddy-like when cooked. No preservative has been added. It's a healthy & delicious noodles. When you eat FuZhou Mee Sua, it reminisces childhood memory - a closeness in heart !